Numeric Inverters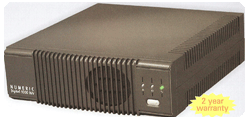 DON'T BE IN THE DARK.
FORGET POWER CUTS.
NUMERIC India's No.1 * UPS company, an Industrial Leader and a reliable partner providing excellent power continuity and clean power through its Total Power Management solutions. Numeric brings wide range of World class power conditioning products addressing the total spectrum of power protection needs meeting International specification conforming UL / CE and soon with RoHS compliance.
UPS Systems
Voltage Stabilizers
Isolation transformers
Inverters / Home power products
DC power
Solar Power
Custom built power conditioners
Power quality Management products
Bring Home a NUMERIC Inverter and forget power cuts forever
Micro Processorbased Design
Automatic Line-to- Battery Switchover
Intelligent 2-Stage Charger
High Efficiency DC - to - AC Conversion
Overload Protection
Compact Rack Tower Design
Short Circuit Protection
MODEL
NUMERIC
Digital 500 INV
NUMERIC
Digital 1000 INV
Capacity
VA
500VA
1000VA
AC INPUT
Nominal Voltage
220 ~ 240 VAC
Input Voltage Range
90 ~ 280 VAC
Nominal Frequency
50 Hz (Auto Detection)
BATTERY
Nominal Voltage
12VDC
24 VDC
OUTPUT
Voltage
230 V+-10%
Frequency
50 Hz+-0.1Hz
Waveform
Modified Sine-Wave
CHARGER
Charging Voltage
13.7V
27.4V
Charging Current
8 A max.
6 A max.
Overcharging Protection
14.5 V
29.0 V
INDICATOR
Line mode
Green LED blinks or lights steadily
Battery mode
Yellow LED lights
Overload / fault
Red LED blinks or lights steadily
AUDIBLE ALARM
Low Battery Voltagein battery mode
Buzzing ecery 2 seconds
Overload
Buzzing every 0.5 second
Fault
Buzzing continously
ENVIRONMENT
Temperature
0 ~ 40° C
PHYSICAL
Dimension (mm)DXWXH
224*255*80
Net Weight(Kg)
1.7
1.9
Load Table
Model
Digital 500INV
Digital 1000INV
Rating
500VA
1000VA
Fan
3
2
4
3
Tubelight
3
3
8
8
TV
1
1
NUMERIC Digital HPH-HR Series
2 KVA-7.5KVA
The Most Reliable Sinewave Inventer
Features
Advanced Microprocessor based design
5 Stage Constant current charger
Fast Action AC Synchronized Transfer Switch
Cold Start
Input & Output Isolated
Auto temperature controlled cooling fan
Output short circuit protection
Over temperature protection
Input high/Low voltage protection
Low battery alarm/Low battery shut-down
Over load protection
Compatibility with DG sets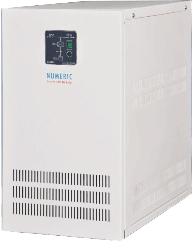 Numeric Digital HP HR Series:is a True Sine wave Inverter that delivers utility grade AC power grade AC power to operate commonity used AC-powered electronic equipments viz., plasma television sets,entertainment systems,printers,electronics appliances-lights,fans,mixer/grinder,refrigator,washing machines Air conditioners and much more.
Digital HP HR Series wave Inventer is designed with advanced Microprosser based control and is equipped with an fast action AC Synchronized transfer switch for seamless change over from mains mode to inverter mode during power cuts thereby provikding power continuity for the connected equipments. The Sine Wave Invrter ensure quality power and increases the gadget efficiency and life compared to squae wave Inverters.
Technical specification
NUMERIC
digitial HPH-HR Series
MODEL
Digital HPH-HR
2000
Digital HPH-HR
3000
Digital HPH-HR
5000
Digital HPH-HR
7500
Capacity
VA/Watt
2KVA/1400W
3KVA/2100W
5KVA/3500W
7.5KVA/5250W
INPUT
Nominal Voltage
220/230/240Vac
Voltage Range
Acceptable Voltage Range
120`290VAC
Frequency
40Hz`60Hz Auto-sensing
Low Voltage Transfer
120Vac±2%
Low Voltage Return
130Vac±2%
Low Voltage Transfer
290Vac±2%
High Voltage Return
280Vac±2%
OUTPUT
Voltage
220/230240Vac(Factory-settable)
Voltage Regulation(Batt.mode)
<3%RMS for entire battery voltage range
Frequency
Regulation
Line Mode
same as AC Mains Input
Battery Mode
50Hz±0.1Hz
Power Factor
0.7
Wave form
Pure Sine Wave
Efficiency
>85%
Overload
Protection
Line mode
>200%,then Mains ON LED blink continuosly
Battery Mode
110%`150%for 30sec;>150%for 200ms,then Inverter Shuts Down
Short Circuit
Protection
Line mode
Miniature Circuit Breaker
Battery Mode
Electronic Circuit
DC Start
Cold start
Yes
Transfer Time
Typical
<10ms
Battery
Battery Voltage
36VDC
48VDC
96VDC
180VDC
Backup Time
Depends on batteries connected(Max Battery Capacity recommended upto 150Ah)
Charging Current
upto 15A
Control Panel
LCD Display(optional)
Input Volts,Output Volts,Frequency,Charging Current,Discharging current,Mode Status,Inverter Status,Mains,Status,Battery Status & Temperature Status(Optional-General Information)
LED Display
System Ready,Mains ON,Inverter ON,Charging/Charged,Over Load/Over Temp.
Audible Alarm
Low Battery
Beeping Every Second
Protection Features
Input High/Low Voltage,Battery Low,Over load,Over Temperature,Short Circuit
Computer Interface
RS232(optional)
Web Interface
SNMP(optional)
Parameter Re-settable
Output Voltage,5 Steps Charging Current,Battery Boost Voltage
Physical
Dimensions(W x H x D)mm
220 x 350 x 440
230 x 390 x 500
290 x 450 x 555
315 x 495 x 555
Net Weight (Kgs)
30
38
57
69
Environmental
Operating Temperature
0-40ºC;32-104ºF
0-95%non-condensing
Audible Noise
Less than 55dBA(at 1Ms)
LOAD CHART
APPLICATION
LOADS
2.0 KVA
3.0 KVA
5.0 KVA
7.5 KVA
DOMASTIC/
RESIDENTIAL/
NURSING HOME/
CLINICS
TubeLight-40W
10
10
15
20
CFL-20W
15
15
15
20
Fan (ceiling)-60W
5
10
10
10
Television-21" CRT-70W
2
2
2
2
DVD player-35W
1
1
1
1
Set top Box-DTH-15W
1
1
1
1
Music System(max 100W)
1
1
1
1
Printer Inkjet-120W
1
1
1
Refrigerator-165 ltr
1
1
1
Mixer Grinder-200W
1
1
1
Water Heater-100W
1
1
1
Exhaust Fan-(max150W)
1
1
1
1
Window AC -1.0 ton(1000W)
1
Split AC
1
SMALL OFFICE
HOME OFFICE
TubeLight-40W
10
10
10
30
CFL
20
20
20
30
Fan (ceiling)
5
10
15
20
Printer Inkjet
2
3
5
5
Fax machine(100W)
1
2
2
Scanner-Office(15W)
1
2
2
2
AC-1.0ton
1
AC-1.5ton(1500W)
1