About Us
'Sabi Power Systems' is counted amongst the responsible manufacturers and suppliers of Online UPS, Line Interactive UPS Inverters, Servo Stabilizers, Power Factor Controllers and CVT.
The advanced line of electrical equipments that we offer is used extensively in both commercial as well as domestic sectors. Clients recognize our products for their enhanced performance, high efficiency and long maintenance-free servicing life.
Our Own Brand : Amaze Inverters
Battery pole reversal protection
Battery deep discharge protection
High surge handling capacity (upto 300%) Cold Start.
Saves 40% electricity bill as compared to square wave inverter
UPS
Online UPS, Line Interactive UPS.
Inverters
Crompton Greaves, Microtek, Apc, Su - kam, Luminous, Tribal, Usha, Whirlpool
Batteries
SF - Sonic, Exide, Amaron, Amco, Okaya, Prestolite
Services
We also undertake services for your old Inverters and Batteries.
Our Electricians are highly experienced in the field of installation & wiring, since we are in the inverter & battery field more than a decade.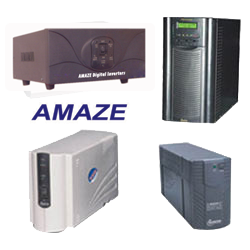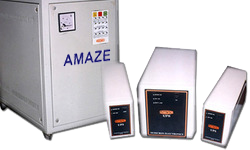 Our Team
Our employees include highly qualified personnel including the engineers and researchers, who belong to different fields and areas of work. We have recruited a team of industry experts in our organization.
They possess better understanding of the market behavior and render timely and reliable after sales services for the clients. Our team has Engineers, Researchers, Quality Controllers, Storekeepers, Skilled Workers and Laborers.