Amaron Batteries
Selecting the right UPS system does not complete your search for a total power back up solution. You need to select the right UPS batteries. Your search for UPS batteries ends here.
Tribal brings to you a wide range of Ultra Low maintenance Tribal Hi-backup batteries. It incorporates a patented hybrid alloy system which minimises water loss and hence no frequent top ups. The unique paste formulation enables quick charging of battery and also a higher back up. Tribal Hi-backup batteries are manufactured in state of art plant of Amara Raja Batteries which manufactures world renowned Amaron range of batteries.
The models include: 80AH, 100AH, 120AH, 140AH, & 160AH . The batteries come with a warranty of 18 months.
Amaron® Hi - Life Batteries come to you from Amara Raja Batteries Limited (ARBL), the largest manufacturers of Stand - by VRLA Industrial Batteries in the Indian Ocean Rim Region and Johnson Controls Inc., leading auto battery makers in the Americas and world leaders in Automotive Systems and Controls.
Amaron® Hi - Life Batteries are made in an ISO 9001, QS 9000, ISO 14001 and TS16949 certified plant using proven world class technology, making them Last Long.
Amaron® Design Features and Benefits
| | |
| --- | --- |
| Premium Silver Alloy(SILVEN X™) | No Leakage / Improved Safety |
| Long Life: Reformulated Advanta™ | Patented BIC Vents |
| Paste Recipe | Higher Cranking Power: |
| Zero Maintenance : High Heat | largest Inter Cell Welds |
| Technology, Premium Silver Alloy | 199 mm Lugs |
| (SILVEN X™), for low corrosion | Customer Satisfaction |
| No top - ups | ARBS™ - Diagnostic Service |
| Fully Sealed & Tested: Factory Charged, Wet Shipped, Ready to fit. | Program Using Special |
| Wet Shipped, Ready to fit | Microprocessor Controlled Tester |
Warranty Every Amaron® Hi - Life Battery comes with 36 months warranty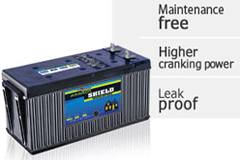 A comprehensive 18 months free replacement warranty that commences right on the date of purchase against manufacturing defects
An additional pro - rata warranty that allows customers to claim rebate corresponding to the period of usage against a new purchase up to 36 months.