Crompton Greaves Inverters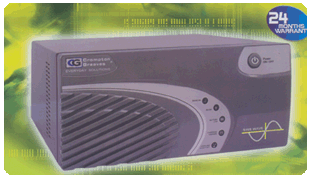 Highly efficient MOSFET technology
Over Temperature protection
Reverse phase protection
Silent operation
Battery Fuse Blown display

Selector switch for Normal / UPS mode
Normal / High Charging Option
High surge load capacity
Wide input voltage range
Battery High Protection
Ratings
| | | | |
| --- | --- | --- | --- |
| Parameters | 600VA | 800VA | 1400VA |
| DC Voltage | 12V | 12V | 24V |
| Battery rating (3hrs) backup | 12V/130AH x 1 | 12V/160AH x 1 | 12V/160AH x 2 |
| Battery rating (2hrs) backup | 12V/100AH x 1 | 12V/130AH x 1 | 12V/100AH x 2 |
Load Chart
Rating
600VA
800VA
1400VA
Chart A
Chart B
Chart C
Chart A
Chart B
Chart C
Chart A
Chart B
Chart C
Fan
2
3
2
3
4
3
4
5
6
Television
1
1
2
1
1
Tubelight
3
4
3
4
6
4
6
8
6
PC
1
1
1
1
1

DSP Sine Wave Static UPS 2.5KVA,3.5KVA and 5KVA
SALIENT FEATURES
State of the art MOSFET based PWM Technology to increase Crest Factors.
Auto Sense Intelligent Control Smart Charger.
Electronic change-over,hence much better reliability.
Quiet operation of AC motors as well as other inductive loads unlike the noise that emanates from modified Sine Wave Systems.
Very low Total Harmonic Distortion <3%.
Fast Changeover ensuring Compatibility with Computers.
TDR(Time Delay Relay),especially for AC Compressor based applications.
Main Mode Short Circuit Protection
Surge load Capacity upto 300%.
Less Operating Cost as compared to that with online UPS as well as DG Sets.
Bypass Switch incase of Systems Failure.
Co,patibility with D.G.Sets.
APPLICATIONS
Suitable for providing alternate power source in corporate offices,BPOs,KPOs etc.
Supports all office equipements including computer,scanner,printers,fax maxchines etc.
Provision for emergency & portable power systems.
Supports air conditioner as well as all compressor based appliances.
Aids petrol/diesel filing machines.
As an all rounder it also helps tread mills and other health equipments to run.
Motor based appliances like water pumps are also supported.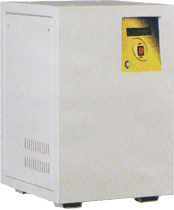 Crompton Greaves Limited
Technical Specifications
Description
2.5KVA
3.5KVA
5KVA
Back-up Mode
Output Wave Form
Pure Sine Wave
Nominal Battery Voltage
48V DC
48V DC
96V DC
Output Power Factor
0.8
No Load O/P Voltage
220V±5V AC
O/P Frequency
50Hz±1Hz
Maximum No load Batt. Current
1.1A±0.2 A
Full Load O/P Current
8.7A±0.5 A
11.5A±0.5 A
17A±0.5 A
Total Harmonic Distortion
<3%
Low Battery Indication
10.5V+/-0.2V DC Per Battery(12V DC Each)
Low Batt. Cut off
10.3V+/-0.2V DC Per Battery(12V DC Each)
Mains Mode
Max. Charging Current
10A±1A
Full Load O/P Current at Mains Mode
15A±1A
17.6A±1A
25A±1A
Boost Charging Voltage
10.5V+/-0.2V DC Per Battery(12V DC Each)
Float Charging Voltage
13.7V+/-0.2V DC Per Battery(12V DC Each)
Noramal Mode
Input Voltage Range
100V to 280V AC±10V AC
125V to 280V AC±10V AC
Change Over Time(mains to inverter)
<40ms
Change Over Time(mains to inverter)
<25ms
UPS Mode
Input Voltage Range
180V to 260V AC±5V AC
Change Over Time(mains to inverter)
<10ms
Change Over Time(inv. to mains)
<10ms
Protections
Protections
Output Not Ok,Battery Voltage Low(4 Auto Retries),Over Load(6 Auto Retries)
Battery Over Charge,Over Temperature,Short Circuit,Mains MCB Tripped
Displays
Displays
Welcome Message,Cpacity,Output Voltage,Output Frequency,Load Percentage
Input Voltage and Frequency,Load Percentage,Load Percentage,Battery Charging,Battery Voltage,and All Protections..
Environmental Parameters
Operating Temperature
0-45Deg.
Acoustic Noise at 1 Mtr.
<45 dB.
Relative Humidity
Max 95% non-Condensing
Thermal Management
Integrated Cooling(Fan & Heat Sink)
Weight and Dimensions
With Packaging LXWXH in mm
470x440x610
470x440x610
500x495x660
Without Packaging LXWXH in mm
310x290x450
310x290x450
350x300x540
Net Weight
29Kg
36Kg
54Kg
Gross Weight
36Kg
39Kg
58Kg
Load Chart
Load
2.5KVA
3.5KVA
5KVA
Chart1
Chart2
Chart3
Chart1
Chart2
Chart3
Chart1
Chart2
Chart3
Fans
4
12
8
6
18
10
10
8
3
Tube Light
4
12
8
6
18
10
10
8
3
Computer with
CRT Screen
4
2
6
3
8
3
TV
3
2
3
3
Air Conditioner
1
1